Meet the Doctors
Dr. Rebecca Falsafi
I have a great passion for working with children and adolescents, and changing their lives by changing their smiles. I am most excited when the patients get their braces off, and I see the look on their faces. Helping them to be comfortable in their smile changes their whole self-confidence, and that brings joy to my life as well.
It is wonderful to get to know so many different people, who all touch my life in a special way. I cherish the relationships that I have with my patients. I can genuinely say that I love what I do!
Education and Continuing Education
I am a summa cum laude graduate of the State University of New York at Buffalo, with a BS in health sciences. I received my Doctorate of Dental Surgery, master's degree in oral sciences, and my certificate of proficiency in orthodontics from the university at Buffalo.
I believe it is vital to stay at the forefront of new orthodontic science and technology in order to provide the best possible care for my patients. I attend numerous orthodontic meetings every year, such as those of the American Association of Orthodontists, Northeastern Society of Orthodontists, Damon Forum, Invisalign Forum, and 3D Global Congress. Orthodontics has changed tremendously over the past 20 years, and I would like to make sure the new trends are applied in my practice.
In addition to continuing education, I am very passionate about teaching. I have been teaching as a clinical assistant professor at University at Buffalo for 20 years. Orthodontic residents and dental students routinely visit our office to shadow and learn about the most recent orthodontic treatment modalities and new technology, such as 3D Imaging, TAD, Propel, etc.
Professional Affiliations
American Association of Orthodontists
American Dental Association
Erie County Dental Society
Damon Study Club
Invisalign® Preferred Provider
Outside the Office
I have lived in Williamsville for the past 30 years. I met my husband Babak in college and we have two children, Adrian and Ariana. In my free time, I enjoy art and usually go to art festivals. I have been painting and drawing ever since I was eight years old. I also enjoy watching movies and cooking Persian food.
My team and I have been supporting the town of Clarence for the past 20 years. We are involved with many local youth clubs and help sponsor some of their events. We also support and donate to local high school drama clubs, including Clarence, Williamsville, Lancaster, and Lockport. Check out our Reaching Out to the Community page for more info!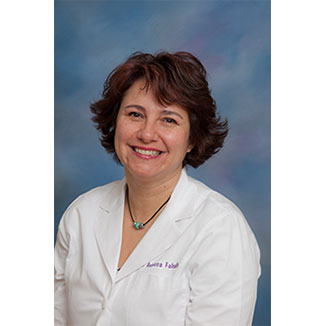 Dr. Adrian Farsaii
Dr. Adrian Farsaii was born and raised in Buffalo, New York. He received his Bachelor of Science in Microbiology at the University of Rochester. He then went on to receive his Doctor of Dental Surgery at the University at Buffalo School of Dental Medicine, graduating with numerous honors, and was the recipient of the annual American Association of Orthodontics award. After graduation, Dr. Farsaii received his certificate in orthodontics and dentofacial orthopedics after completing an extensive three–year residency at the prestigious Montefiore Medical Center, the University Hospital for Albert Einstein College of Medicine. Dr. Farsaii also has a research background in the field of orthodontics, with his work having been published in several renowned scientific journals. He is currently the co-author of a book chapter published in an international journal on orthodontics and craniofacial growth at the University of Michigan.
Dr. Farsaii's mission is to empower his patients by providing exceptional orthodontic treatment in a comfortable, caring and fun environment. He loves helping people and takes pride in creating life-changing smiles. In his free time, Dr. Farsaii enjoys staying active outdoors, playing soccer, spending time with friends and family, and is an avid supporter of the buffalo bills football team!